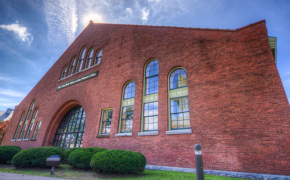 Green Mountain Chamber Music Festival is back! After an online season for our students in 2020, with no artist faculty concerts, we will return to Vermont in 2021 for our 17th season at St. Michael's College in Colchester, presenting the six concerts of our Artist Faculty Series at Elley-Long Music Center, 223 Ethan Allen Ave, Colchester, VT 05446.
Elley-Long is large enough to accommodate GMCMF students, faculty and audience members safely in accordance with Vermont COVID guidelines. All our student and faculty participants will be vaccinated, and while our hope is that all of our audience members will be vaccinated too, the size of the hall does permit up to 100 non-vaccinated people in the audience according to state protocols.
This year's series offers a particularly diverse group of composers, as well as performances by guest artists Chad Hoopes (June 30) and Matt Haimovitz (July 16). All concerts begin at 7:30 pm. Please note that concert scheduling will follow a somewhat different pattern from past seasons, with the final concert on a Tuesday evening. Concert dates will be:
Wednesday, June 30
Friday, July 2
Wednesday, July 7
Friday, July 9
Friday, July 16
Tuesday, July 20

For the repertoire to be played on theses concerts, and to purchase tickets, click here. We look forward to seeing you this summer!