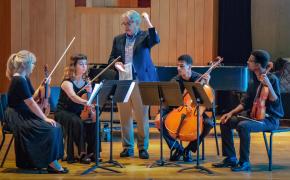 During our 2019 season, Green Mountain Chamber Music Festival will offer a series of four guest master classes to our Emerging Artists. These events are open to the public and free of charge. All will take place in the UVM Recital Hall.
The classes—
Violist Paul Neubauer of the Chamber Music Society of Lincoln Center will return to work with GMCMF students in a chamber music master class on Saturday, June 29, at 1:30 PM.

Thursday July 4, Philip Setzer of the Emerson String Quartet will make his second visit to Green Mountain for a quartet master class beginning at 1:30 PM.

Violinist Violaine Melançon has given a chamber music class each summer the Festival has been held. Her 2019 class will take place on Sunday, July 7 at 7:30 PM.

On Thursday, July 11 at 4:15 PM, Matt Haimovitz will give a chamber music class as part of his sixth residency at the festival.