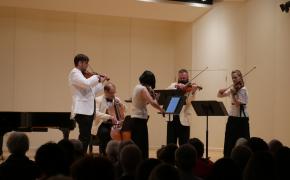 July 5, 2021

One hundred seventy students along with thirty faculty and staff have arrived on the campus of St. Michael's College in Colchester, Vermont for the return of the Green Mountain Chamber Music Festival. Since June 28, students have been busy practicing, rehearsing and forging new musical friendships with even more delight than before, as wide-spread vaccination efforts and the lifting of Covid19 restrictions have allowed the 2021 festival to take place in-person.
In addition to weekly Emerging Artists concerts, the Green Mountain faculty present a series of ticketed performances at Elley-Long Music Center, just north of St. Michael's main campus. A review of our July 3 concert may be found here.
During the third and fourth weeks of the festival, students will have the opportunity to perform on the our Classical Encounters series, which moves chamber music beyond the walls of the concert hall and into public places around Burlington. Details about location and times may soon be found here.
The days of Green Mountain are busy and demanding as always, but perhaps what is most striking about this season is the profound feeling of gratitude among faculty and students for the opportunity to make music together once again.