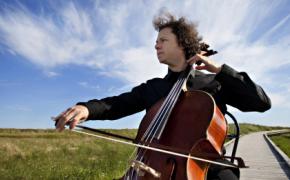 In 2017 renowned cellist Matt Haimovitz returned to GMCMF for his fourth annual residency at the festival. His time at Green Mountain from July 4th to 7th included opportunities for cello students and chamber ensembles to receive coachings along with a chamber music master class open to the public, and culminated in a concert on the July 7th Artist Faculty Series concert.
Mr. Haimovitz performed in all three pieces of the July 7th concert: Mozart's D major viola quintet, K.593, a special preview of a world premiere inspired by Vivaldi written by Festival composer-in-residence Adam Borecki, and the sublime "Archduke" Trio of Beethoven. Before the concert, in our second Perspectives and Contexts presentation of the season, Borecki was interviewed by festival violinist Lina Bahn, discussing his work which had its official premiere by Ms. Bahn and Mr. Haimovitz at the National Gallery of Art in October of 2017.
Matt Haimovitz is recognized worldwide for his pioneering work bringing chamber music to unusual venues and to new audiences, providing inspiration and a model to our festival in doing the same through our Classical Encounters.