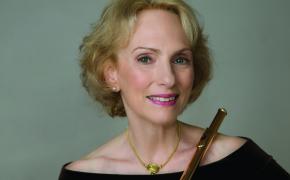 There are a multitude of summer music festivals in the United States, some world-renowned, like Tanglewood, and some small and intimate, like the Green Mountain Chamber Music Festival. In 2012, I first visited this remarkable Vermont festival, in which every summer young string players from all 50 states and several foreign countries come to work with a distinguished and dedicated faculty and to experience a month of intense music making. I produced a 'vlog' in partnership with MusicalAmerica.com that summer. In 2016, I'm thrilled to also be performing on the July 8 concert, Italian Voices!
------------------------------------------------------------------
Flutist/writer/TV Arts Correspondent, Eugenia Zukerman, who for more than 25 years was Arts Correspondent for CBS TV's Sunday Morning, will use her interviewing expertise to create entertaining and informative video segments, with accompanying text, about GMCMF, its students, faculty, performances, and its beautiful setting.