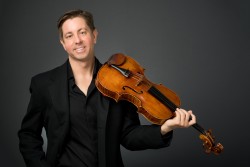 Daniel Sweaney
University of South Carolina
Daniel Sweaney began his musical studies at age eleven. He has since had a diverse education in the United States and Europe and performed throughout the globe. 
He has won prizes at the Fischoff National Chamber Music Competition, the Down Beat Magazine Chamber Music Competition, was a two time recipient of the Interlochen Arts Academy Fine Arts Award for Outstanding Performance in Viola, and was the recipient a Frank Huntington Beebe Grant and the Elizabeth Hamner Grant.  He was a teaching assistant and a chamber music coach at The Perlman Music Program and participated in their exchange trips to Tel-Aviv and Shanghai. Dr. Sweaney has held faculty positions at the Cleveland School for the Arts, Rice University Preparatory Department, The Boulder Arts Academy, Sewanee Summer Music Center, the Interlochen Viola Institute, the North American Viola Institute at the Orford Arts Centre, the Rocky Ridge Music Center, and the University of Alabama.  He has given masterclasses at the University of Virginia, Kentucky, Tennessee, Bowling Green State University, Louisiana State University, Texas Tech University, Brandeis University, the Instituto Superior de Arte in Havana Cuba, and the National Orchestra Festival.  His student's have received fellowships to the Aspen Music Festival and scholarships to the Quartet Program, Brevard Music Center, Eastern Music Festival, Kent Blossom, Hot Springs, National Music Festival, and the AIMS Graz Festival.  They have been awarded the McElroy Scholarship, Most Outstanding Senior at the University of Alabama, a Narramore Fellowship, Presser Scholarship, and the Emily Searcy Rogers Scholarship.  
Dr. Sweaney has collaborated with Itzhak Perlman, Ron Leonard, and Merry Peckham.  While living in Austria, he performed regularly with the Camerata Salzburg at such venues and festivals as, the Salzburg Festival, Vienna Konzerthaus and Musikverein, Singapore Arts Festival, The Beethoven House in Bonn, Lincoln Center's Great Performers Series, Carnegie Hall, the Kennedy Center, and Orchestra Hall in Chicago.  He has performed at the International Viola Congresses in Krakow Poland and Rochester, NY.
Daniel Sweaney performs regularly as a duo with violinist Annette-Barbara Vogel. Together they have performed in the United States, Europe and throughout Canada. Their first recording Violin Viola Duos Through the Centuries was described by American Record Guide as "superior playing and a gorgeously recorded performance."
Daniel Sweaney studied at the Interlochen Arts Academy, The Cleveland Institute of Music, Rice University, and the Universität Mozarteum, Salzburg.  His major teachers include Heidi Castleman, Thomas Riebl, Roger Tapping, and Erika Eckert.  He has taught at the University of Alabama, Interlochen Center for the Arts, Orford Arts Centre, and the Rocky Ridge Music Center.  Daniel Sweaney is currently on the faculty of the University of South Carolina.