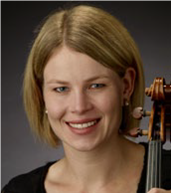 Lembi Veskimets
Cleveland Institute of Music Preparatory Department
Baldwin Wallace Conservatory of Music
In 1997 violist Lembi Veskimets was appointed to the Cleveland Orchestra, an orchestra long considered among the handful of the world's greatest symphonic ensembles. She previously held the principal viola positions of both the Ohio Chamber Orchestra and the National Repertory Orchestra, with which she was also featured as a soloist in the Bartok Concerto. Touring in Europe and appearing at Carnegie Hall annually with the Cleveland Orchestra, she has performed internationally as a chamber musician in venues such as the Expo in Osaka, Japan, the cite de musique in Paris, France, the National Opera house in Riga, Latvia and the Toronto Centre for the Arts in Canada. In the United States she has performed on Boston's Baltic Concert Series and the chamber music series of the Cleveland Museum of Art, the Dayton Art Institute and Cleveland's Reinberger Chamber Hall, as well as at the North Carolina School of the Arts and Cameron University in Oklahoma.
She has participated in festivals such as the Aspen Center for Advanced Quartet Studies, the Taos School of Music, the Juilliard String Quartet Seminar, the Sarasota Music Festival and the Isaac Stern Chamber Music Workshop at Carnegie Hall. She was a prize-winner at the ASTA National Solo Competition and winner of the Florence Hood-Bryson Trophy for strings at the Toronto Kiwanis Festival. Her Los Angeles recital was reviewed in the Journal of the American Viola Society as "beautifully presented," with her viola-piano collaboration characterized as "outstandingly successful." The Cleveland Plain Dealer called her a "forceful protagonist" on her instrument, and the Akron-Beacon Journal wrote that she had "the conviction and panache of a soloist." The late violin soloist Isaac Stern called hers "a beautiful talent."
Born in Toronto, Canada, of Estonian parentage, Ms. Veskimets received both Bachelor and Master of Music degrees from the Cleveland Institute of Music, where she was a student of Robert Vernon. She is a faculty member at the Cleveland Institute of Music's Preparatory Department and Young Artist Program, the Cleveland Music School Settlement and the Encore School for Strings. She has also served as a chamber music and section coach for the Cleveland Orchestra Youth Orchestra and has given master classes at the Baldwin-Wallace College (OH) and the University of Oklahoma.