Submitted by
Amanda Stenroos
on
Mon, 10/10/2022 - 14:04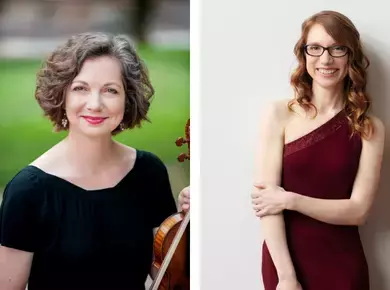 Green Mountain Chamber Music Festival is proud to present a new off-season concert series featuring Artist Faculty from the summer festival.  The performances will take place at College Street Congregational Church in Burlington, Vermont on November 19, February 18 and May 13.  Tickets are $25 general admission and free for students.
February 18, 2023 | 3:00 PM
Violaine Melançon, violin & Meagan Milatz, piano (pictured)
     Dvořák, Sonata for Violin and Piano Op. 57 in F Major
     Ana Sokolovic: Chant pour Violon et Piano
     Jacques Hétu: Variations pour violon seul
     Schumann d min Sonata, op. 121 

Click here for February 18 tickets.
May 13, 2023 | 3:00 PM
Kevin Lawrence, violin & Hiromi Fukuda, piano
     Beethoven: Sonata for Violin and Piano, Op. 12, No. 2
     William Grant Still: Suite
     Fauré: Violin Sonata No. 1

Click here for May 13 tickets.

 
Previous performances:
November 19, 2022 | 3:00 PM
Elizabeth Chang, violin & Steven Beck, piano
     Dohnányi Violin Sonata
     Szymanowski Violin Sonata
     Bartok Sonata No. 1 for Violin and Piano