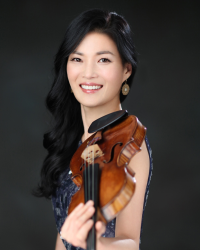 Kyung Sun Lee
Indiana University Jacobs School of Music
Violinist Kyung Sun Lee is professor of music in violin at the Indiana University Jacobs School of Music.
She captured a bronze medal in the 1993 Queen Elizabeth Competition, sixth prize in the 1994 Tchaikovsky Competition, first prizes at the Washington and D'Angelo International Competitions, and third prize in the Montreal International Competition, where she also won the Audience Favorite and Best Performance of the Commissioned Work prizes.
Subsequent to winning these awards, Lee has enjoyed ever-increasing popularity as a performer and received high critical acclaim: "Exceptional tonal suavity and expressive intensity in equal measure." — The Strad. "Godard's 'Concerto Romantique' could not have had a more outstanding soloist than Kyung Sun Lee." — Harris Goldsmith, New York Concert Review Inc. "Fluidity and grace; pathos and emotion." — ThePalm Beach Post. "Lee is the most musical, the most intelligent soloist to have played with the orchestra in quite a while." — Tuscaloosa News. "Penetrating clarity, a strong sense of style and a technical supremacy that conquered all difficulties with unruffled ease." — Miami Herald. "Beyond superb execution, she conveyed [Vieuxtemps's Concerto No. 5] particular Romanticism expertly." — Dennis Rooney, The Strad.
In addition to being in demand as a soloist and chamber musician, Lee is an accomplished teacher and clinician. After becoming assistant professor of violin at Oberlin Conservatory in fall 2001, then associate professor at the University of Houston in fall 2006, she has been professor at Seoul National University since 2009.
Lee taught for two summers at the Aspen Music Festival and has also been on faculty at the Bowdoin Music Festival and the Heifetz International Institute. In recent, years she has been in demand as a judge of violin competitions including the Joachim International Violin Competition Hannover, Seoul International Competition, and Singapore International Violin Competition.
She studied at Seoul National University, Peabody Conservatory, and Juilliard. Her teachers have included Sylvia Rosenberg, Robert Mann, and Dorothy Delay.
Lee plays a Joseph Guarnerius violin from 1723 and is music director of Changwon International Chamber Music Festival and Seoul Virtuosi Chamber Orchestra.