Submitted by
Amanda Stenroos
on
Wed, 05/17/2023 - 11:38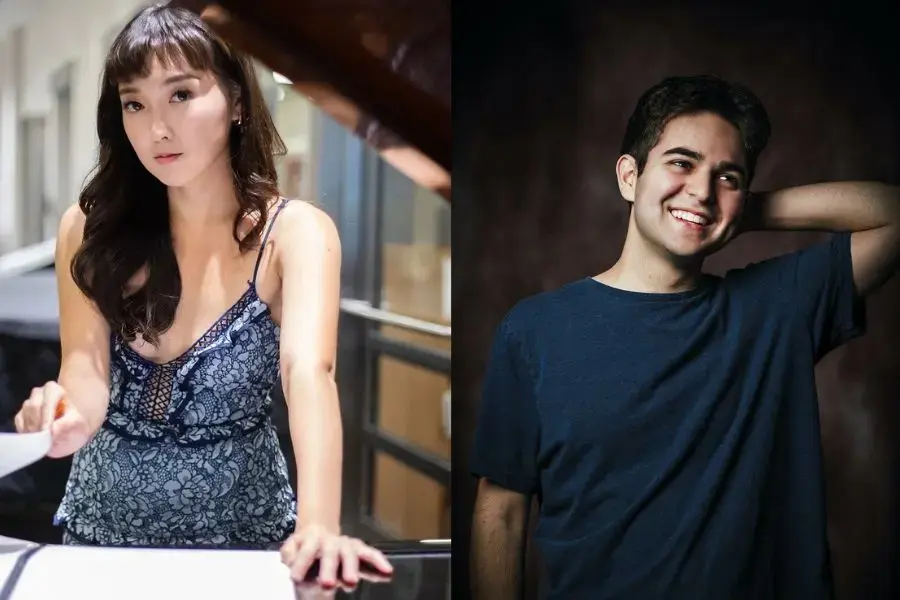 Green Mountain has announced its winners for the first Call for Scores, which sought works for string quartet by composers under the age of 30.
1st place: Nicky Sohn "Burning"
2nd place: Kian Ravaei "Family Photos"
Both pieces will be performed on the 2023 Artist Faculty Concert Series by GMCMF Fellows Quartets. Congratulations Kian and Nicky!
 
Whether composing piano preludes inspired by mythical  creatures, flute melodies that mimic the songs of endangered birds, or a string quartet that draws from the Iranian music of his ancestral heritage, composer Kian Ravaei (b. 1999) takes listeners on a spellbinding tour of humanity's most deeply felt emotions.
Ravaei has collaborated with performers and ensembles such as Eliot Fisk, Bella Hristova, Salastina, and Juventas New Music Ensemble, and has served as a Copland House CULTIVATE Fellow and a Los Angeles Chamber Orchestra Composer Teaching Artist Fellow. In recent months, Ravaei was featured on an episode of Performance Today, America's most popular classical music radio program. His string quartet Family Photos has garnered numerous awards, including First Prize in the Spectrum Chamber Music Composition Competition, Second Prize in the instrumental chamber music division of the American Prize, and Honorable Mention in the Tribeca New Music Young Composer Competition. DJs know Ravaei as the go-to person for creating orchestral versions of dance songs, including Wooli & Codeko's "Crazy feat. Casey Cook (Orchestral)."
Ravaei counts celebrated composers Richard Danielpour, Derek Bermel, and Tarik O'Regan among his teachers. He is an alumnus of UCLA and the Curtis Institute of Music Young Artist Summer Program.
 
From ballet to opera to Korean traditional-orchestra, the wide-ranging talent of composer Nicky Sohn (b.1992) is sought after across the United States, Europe, and Asia. Characterized by her jazz-inspired, rhythmically driven themes, Sohn's work has been described as "like John Adams' 'Short Ride in a Fast Machine' on steroids" (YourObserver), "dynamic and full of vitality" (The Korea Defense Daily), and having "elegant wonder" (Frankfurter Allgemeine Zeitung). As a result, Sohn has enjoyed commissions from the world's preeminent performing arts institutions, including sold-out performances at the Stuttgart Ballet, The National Orchestra of Korea, Minnesota Orchestra, and Sarasota Orchestra.
Recent highlights include an orchestral premiere by the St. Louis Symphony overseen by John Adams, as well as commissions and performances from the National Orchestra Institute and Festival, Minnesota Orchestra, Orchestra of St. Luke's, Sarasota Orchestra, and the Aspen Philharmonic Orchestra. Sohn has also collaborated with chamber ensembles such as the Kinetic Ensemble (composer-in-residence 2022-23) and Lucia Lin (Boston Symphony), Carpe Diem String Quartet, Bergamot Quartet, and Atlanta Chamber Players. Current projects for Sohn include an orchestral work for the Annapolis Symphony, a piano quintet for Dacamera's season opener featuring the Isidore Quartet and pianist Sarah Rothenberg, and a chamber work for the River Oaks Chamber Orchestra. Nicky Sohn is pursuing a fully-funded doctoral degree at the Shepherd School of Music of Rice University and holds degrees from Juilliard School and Mannes College of Music.