Submitted by
Amanda Stenroos
on
Mon, 10/24/2022 - 10:04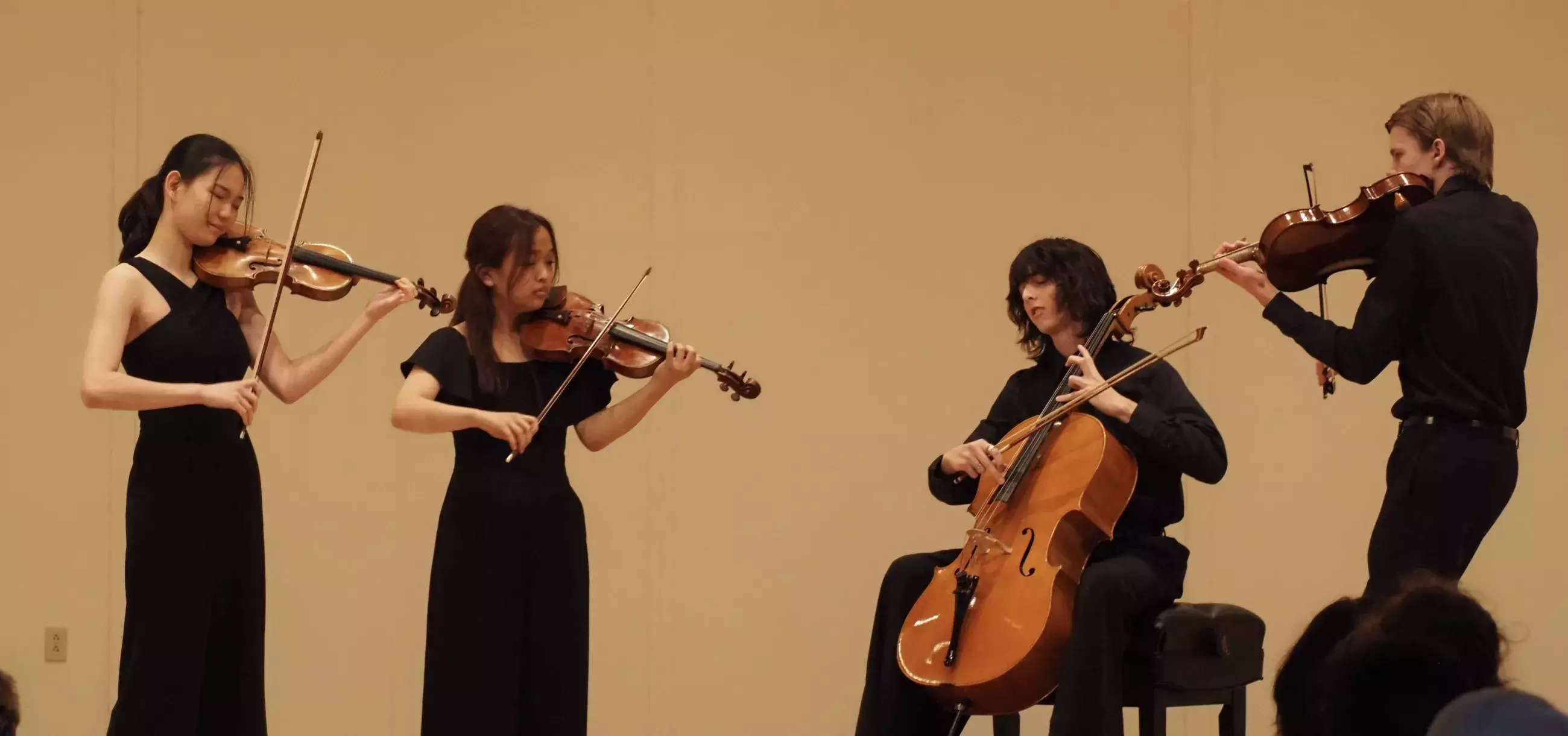 Green Mountain Chamber Music Festival announces two new program offerings for the 2023 summer festival


 
The Festival will offer up to eight fully funded Fellowship positions to students ages 21 to 35 in the early stages of their careers. Pre-formed string quartets (see requirements below) also have the opportunity to apply for the two-week String Quartet intensive. Both new programs are in addition to the regular four-week program, for which all applicants apply when using the online application. Note the Fellowship program and SQI are optional; applicants should thoroughly read all requirements for these programs before electing to apply. All applications open December 1.

Please contact info@gmcmf.org for more information.
Fellowship Program
In 2023, GMCMF is introducing a fully funded Fellowship Program for up to 8 young professional string players between the ages of 21 and 35 in the early stages of their careers. Fellow candidates should be seasoned chamber musicians with a broad knowledge of the string chamber repertoire; they should be at a professional level of technical accomplishment on their instruments; they should be comfortable in a mentoring role. The expectation is that Fellows will be exceptionally successful in their collaborative relationships and unusually thoughtful in their musical work, serving as artistic role models for students in the regular program.

The minimum educational requirement for Fellowship applicants is a Bachelor's degree. Fellowship participants will attend the full four-week program.

Pre-formed quartets are encouraged to apply, although individual applicants will also be considered. If you are applying for a fellowship as part of a pre-formed string quartet, all quartet members must file separate applications and a video file of the quartet will be required.
Fellowship Program includes:
Free room and board for the duration of the festival

Performance opportunities at public and private venues

Collaborations with faculty in faculty concerts

Opportunity to premiere competition-winning string quartet

Up to 6 lessons with festival teachers

Practice tutor responsibilities (5 hours per week)

Assistant coaching responsibilities (up to 5 hours per week)
String Quartet Intensive Program
The String Quartet Intensive offers a

highly selective two-week program for pre-formed string quartets

from June 25 to July

9

.

This option is exclusively for pre-formed groups

who have been working together and have been coached for at least a year. Members should be between the ages of 14 and 30. Groups should have a performance history and videos to submit.

 

Tuition for SQI is $2505, which includes room and board.

Students will adhere to a different schedule from regular festival participants; they will rehearse and have coachings in the morning and practice in the afternoon. Students in the String Quartet Intensive will receive daily coachings Monday through Friday, for a total of 10 coachings. SQI students will not be scheduled for private lessons but may request lessons for an additional fee.  Performance opportunities in public and private venues as well as master class opportunities will be available to SQI groups. Individuals in the SQI are eligible for scholarship but must apply for scholarship individually.

Please note the regular program is four weeks; students attending the regular program are required to attend for all four weeks.
You will be given the option to apply for the String Quartet Intensive and/or Fellowship Program on the 2023 online application.
 

Regular Program
Tuition: $5,010

Intensive four-week program of solo and chamber music study that welcomes college, graduate, and high school age violinists, violists and cellists into an atmosphere of focused professionalism.

Students are placed into chamber groups by GMCMF artistic staff. Working and performing with your chamber music ensemble is one of the most significant elements of the Green Mountain experience. We are committed to matching players and personalities with great care, so that every player will enjoy the process of musical growth the program intends to create.

GMCMF welcomes preformed chamber ensembles to apply to the festival. Each member of the group should submit all necessary application materials by the application deadline. To apply as a group, one member of the ensemble should also email General Manager Amanda Stenroos

.

Includes daily structured practice hours, six private lessons, six chamber coachings, rehearsals, seminars, masterclasses etc.

Community outreach performance opportunities

Organized recreational time during evenings and on weekends

Room & board included; scholarships available